National Recognition
Hoban's academic standards are illustrated through student achievements. The number of students recognized each year by the National Merit Scholarship Program® and the College Board is a testament to Hoban's faculty and the quality of a Hoban education.
Being recognized, at any level, by the National Merit Scholarship Program® is a high achievement for both the student and their school. They represent the top performing students in the nation. Hoban is proud to have a long-standing tradition of naming students recognized by the National Merit Scholarship Program. In the last five years, 53 students have been recognized, more than any other school in Summit County.
About the National Merit Scholarship Program
The National Merit Scholarship Program is an academic competition for recognition and scholarships that began in 1955. According to their website, approximately 1.6 million high school students enter the program each year.
Of the 1.6 million entrants, about 50,000 with the highest PSAT/NMSQT® Selection Index scores qualify for recognition in the National Merit Scholarship Program. In September, Hoban is notified of the students who have qualified as either a Commended Student or Semifinalist.
Commended Students
About 34,000 students receive Letters of Commendation in recognition of their outstanding academic promise. Commended Students are named on the basis of a nationally applied Selection Index score that may vary from year to year and is typically below the level required for participants to be named Semifinalists in their respective states. Although Commended Students do not continue in the competition for National Merit Scholarships, some of these students do become candidates for Special Scholarships sponsored by corporations and businesses.
Semifinalists
Approximately 16,000 students qualify as Semifinalists. To ensure that academically talented young people from all parts of the United States are included in this talent pool, Semifinalists are designated on a state-representational basis. Semifinalists are the highest scoring entrants in each state. Qualifying scores vary from state to state and from year to year, but the scores of all Semifinalists are extremely high. NMSC provides scholarship application materials to Semifinalists through their high schools. To be considered for a National Merit® Scholarship, Semifinalists must advance to Finalist standing in the competition by meeting high academic standards and all other requirements explained in the information provided to each Semifinalist.
Finalists
Only about 15,000 Semifinalists advance to Finalist standing. High school principals are notified and provided with a Certificate of Merit to present to each Finalist. These students are qualified to potentially receive a Merit Scholarship award.
Four Hoban seniors named semifinalists
Seniors Christina Worcester, Ayaka Coffman, Michael Bowling and Patrick Sullivan have been named 2020 National Merit Semifinalists. Over the past five years, more than 50 Hoban students have been recognized by the National Merit Scholarship Corporation.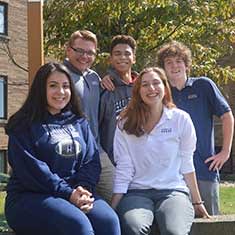 Five seniors named commended students
Five Hoban seniors have been designated as Commended Students in the 2020 National Merit Scholarship Program based on their scores on the PSAT they took as juniors. Slade Brooks, Xavier Dirker, David Duryea, Rebecca Kubick and Grace Rossi are recognized for their exceptional academic promise but will not continue in the competition for scholarships. Earlier, four seniors were named Semifinalists.
NATIONAL MERIT THROUGH THE YEARS

Class of 2008

Class of 2009

Class of 2010

Class of 2011

Finalists:

Erin Armao Marjorie
Cantine Caroline Dzeba
Adam Gale
Joshua Schnitzler
Victoria Stewart


Commended Students:

Courtney Chlebina
Kathleen Davey
Andrea Hinton
Meagan McMahon
Rebecca Miesle
Maria Neugebauer
Nicholas Reymann

Finalists:

Terence M. Hillery
Patrick J. Kramer
Andrew D. Padula
Christopher G. Sarkis


Commended Students:

Sarah Blinka
Mike Horth
Catherine Huff
Ashley Markowski
Evan Merle
Charles Renner
Ethan Scott
Kyle Sokol
Rachel Wischt

Finalists:


Vincent Burns
Mary Dieglio
Jake Frego
Alexandra Kepler
Janelle Stalter

Commended Students:


Lawrence Anderle
Eric Antonucci
William Darby
Shannon Davey
Alec Droba
Brian Gibbons
Rachael Hershey
Mackenzie Kaser
Elizabeth Melhus
Stephen Veillette

National Achievement
Outstanding Participant:

Finalists:

Commended Students:

Jacob Belair
Mark Frego
Kevin Geary
Nolan Habel
Deanna Klettlinger
Kathryn Savako

Class of 2012

Class of 2013

Class of 2014

Class of 2015

Finalists:

Connor Lynch
Ileana Horattas
Lindsay Huth
Jake Pelini
Ryan Will

Semifinalist:

Commended Students:

Julianna Blischak
Kristin Brennan
Katherine Caprez
Abigail Dankoff
Caren Dieglio
Mary Stalter
Kellie Tomin

Semifinalists:

Sam Smartnick
Tony Burns
Lauren Whitehouse
Matt Onders

Commended Students:

Katherine Geary
James Marrter
Andrew Udovich

National Hispanic
Recognition
Outstanding Participant:

Semifinalist:

Commended Students:

Madalyn Beban
Lucia Congeni
Katherine Frego
Ryan Kupcik
Susan Stalter

Finalists:

Anthony Incorvati
Evan Nichols
Anna Armao

Commended Students:

Matthew Rohrer
Madison Hughes
Tess Davey
Graham Onders

National Achievement
Outstanding Participant:

Class of 2016

Class of 2017

Class of 2018

Class of 2019

Finalists:

Marilyn Icsman
Benjamin Sutter
Chelsea Wein

Semifinalist:

Commended Students:

Joseph Brennan
Will Freeman
Madeline Grosklos
Nicholas Lewis
Michael Smith
Josh Sukie
Gabriella Wittbrod

Finalists:

Bryce Dzubara
Colin Fricker
Carson Keenan
Victoria Woodburn

Commended Students:

Mara Bahmer
Dominic Congeni
Andrew Hayes
William Schell
Luus Stricker
Anthony Ursetti

Finalists:

Luke Armao
Jack Bahmer
Joshua Parisi
Michael Rinaldi
Alison Ritenour
Victor Vogt

Commended Students:

James Bowling
Michael Davies
Patrick Hanlon
Sean Hayes
Kathleen McMahon
Jack Skinner
Ryan Volcansek
Chloe Weidrick

Finalist:

Commended Students:

Alexander F. Baumgartner
Ian J. Doucet
Jacob P. Dudek
Lauren M. Fricker
Joel T. Hottinger
Corrina L. Mullins
Kayla A. Mullins
Andrew M. Pero
Andrew F. Rinaldi
The College Board recognized Hoban students in 2019 based on the results of the Advanced Placement Examinations.
28 AP Scholars, 11 AP Scholars with Distinction, 9 AP Scholars with Honor and 1 National AP Scholar.
AP Scholars with Distinction: Lauren Fricker, Bridget Hahn, Joel Hottinger, Michael Jorgenson, Reese Marino, Corrina Mullins, Bennett Nichols, Andrew Pero, Nathaniel Plaspohl, Andrew Rinaldi, Merideth Vieson

AP Scholars with Honor: Ian Doucet, Jacob Dudek, Allison Ewald, Zoe Farah, Jacob Givens, Abigail Griffith, Paul Hirsch Jr, Athena Markowski, Nathan Montecalvo

National AP Scholar: Joel Hottinger
Advanced Placement courses give students the chance to tackle college-level work while still in high school and earn college credit and placement. AP classes help students acquire the skills and habits needed to be successful in college. They help students improve writing skills, sharpen problem-solving abilities and develop time management skills, discipline and study habits. For more information about the College Board's AP Program, click HERE.
The quality which defines the students of a Holy Cross education heritage is the training of the hearts as well as the minds.
–Blessed Basil Moreau | Founder of the Congregation of Holy Cross